The designer composter for indoor and outdoor use
Compost, grow, cook...
and start again!
Pay in 3x or 4x free of charge
EASY GARDENING ALL YEAR ROUND
Enhanced Subscription
4 boxes of organic plants delivered seasonally
Includes growing instructions and vegetable garden calendar
One live gardening masterclass per season
6, 15 or 25 plants, sunny or shady exposure
Access to the after-sales service by message
Or €16.25 4x free of charge
A wide range of composters
A compact design with a diameter of just 35 cm
Pay in 
3x or 4x
Payment in 3 to 4 instalments free of charge. Simple. Immediate. Payment with ALMA.
Odorless
Midge-free
Unlike garden composters, vermicomposters don't give off odors.
Compact &
scalable
Cultivate vertically in only a 35-centimeter diameter piece.
Upgrade your Ceercle by adding layers!
Handmade products 

Our potters hand-make superb terracotta Ceercles. Your bio-waste becomes
your bio-food.
Over 1,500 Ceercle composters already installed in your home!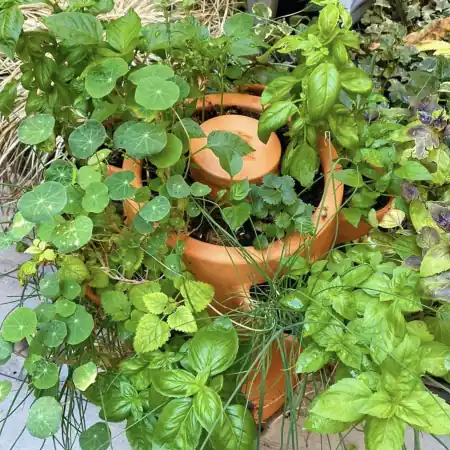 Aurélie
Brief stopover in Lyon. Our neighbors have obviously taken good care of our Ceercle, and we can set off again serenely for the third and final phase of the vacations 😉.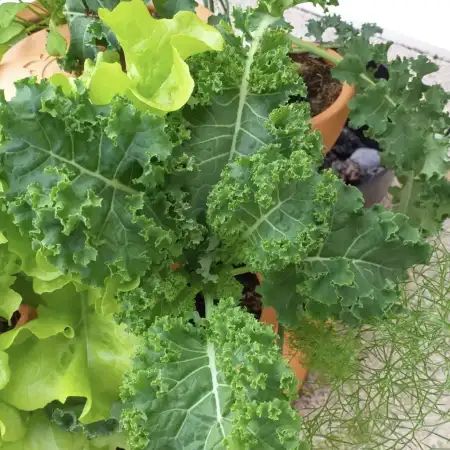 Solène
And there you have it, my first vegetable garden with Ceercle 😊. I'm delighted, it's very easy to use and it doesn't smell bad! All I have to do now is enjoy my vegetables 😉.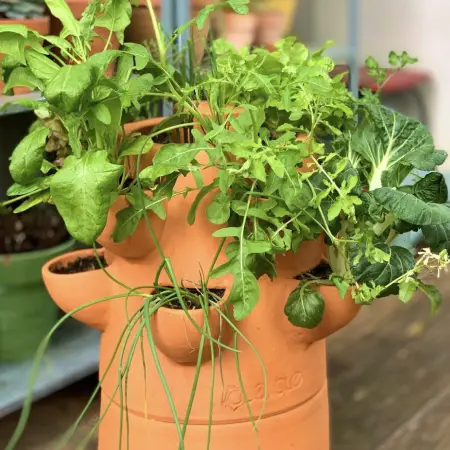 Sarah
My @ceercle.eu vegetable garden composter has literally exploded  these past weeks, I had to immortalize it, I think it's a real work of art 😍🌱.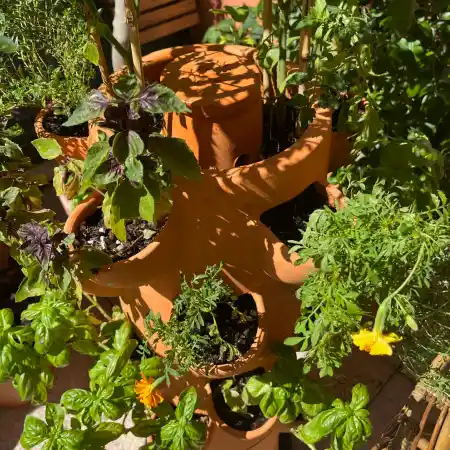 Ludo
Really simple to use, I'm not a gardener at all but your offer with everything included and your advice helped me a lot 🙏 ... everything is thought out for beginner gardeners!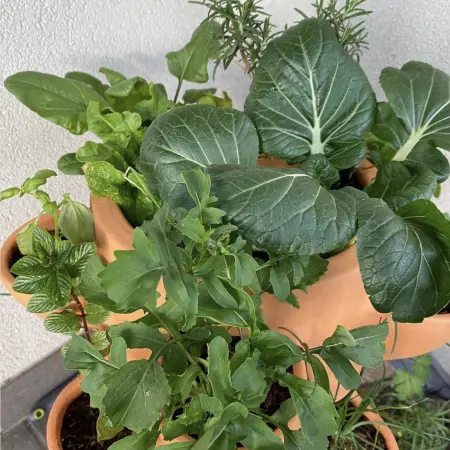 Margaux
I'm so happy to be able to have my own little vegetable patch in my apartment. What i grow goes straight from my garden to my plate ☺️.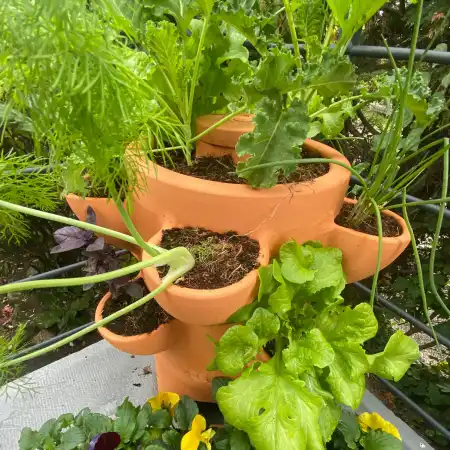 Arthur
The vegetable garden is magnificent
and the children spend 30 minutes tending it every day!
Harvest 2x more than
in a conventional planter
Reduce the weight of your garbage cans
Bio-waste - peelings, cardboard - still accounts for 30% of our garbage cans!
Turn this waste into compost
Compost worms do all the work, aerating your soil as if it were the ground.
Irrigate and nourishe the earth
Composed of 90% water, biowaste transforms into a rich compost.
Grow organic herbs and vegetables
Integrated compost helps your plants grow much faster!
How does the composter 
work?
Recycle your peelings and dry matter ine the center of the vermicompost column
Plant the young plant shoots of your choice according to your likings and your exposure.
Harvest your compost on average 4x a year to enrich the soil of other plants
Use compost tea as a liquid fertilizer for your plants by diluting it with water.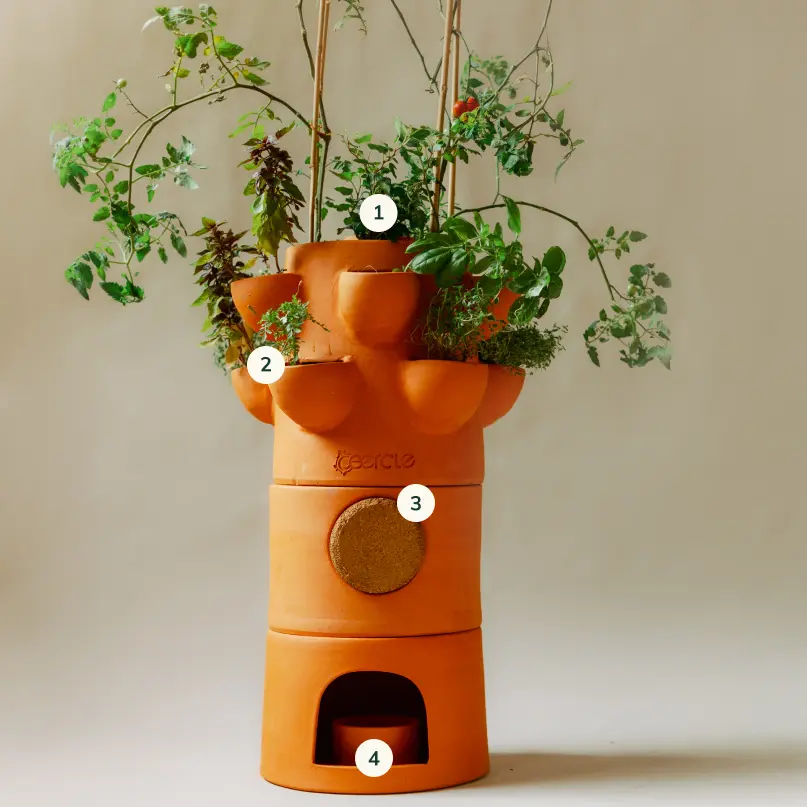 Handmade
from terracotta
Our vermicomposters are handemade in Portugal, using traditional craftsmanship.

Our terracotta includes no chemicals : it is sustainable and environmentally friendly.

Each piece takes for 
4 hours for our potters to achieve a unique result.

Our potters apply a hydrophobic coating to maintain the initial appearance of the pieces as long as possible, and to avoid the risk of shattering due to freezing in winter.
An ethical & eco-responsible approach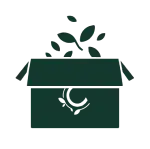 100% eco-designed cardboard and biodegradable packaging

Seasonal plants produced by an organically certified French nurseryman.

Orders prepared by an esablishment supporting disabled people. 
Thanks to you,
Ceercle in 2023
is already
1500
urban compost gardeners
10,000 plants
grown organically in the city
7 tons
of biowaste recovered
Find out all about our designer composters
Charles* answers your questions
* The team's super agricultural engineer 
Does this composter create odors?
Rest assured, compost doesn't produce unpleasant odors. It even smells like undergrowth when it's well balanced. Odors usually appear at the same time as flies. The reason? Excessive humidity (not enough dry matter such as cardboard) and a lack of air which encourages the appearance of flies and the fermentation which is responsible for unpleasant odors. By carefully balancing what you put in your composter, you can avoid this type of nuisance.
How much can I harvest from my balcony garden?
Thanks to our R&D approach, we have been able to collect yield data by plant variety and season. A single floor of our Ceercle vegetable gardens produced on average: - for the vegetable range: 3kg of lettuces, peas, Chinese cabbage, radishes... - for the aromatic range: 800g of fresh aromatics (parsley, coriander, chives...) You'll be able to cook 100% fresh food that retains its taste and nutrients! A real kitchen... on the balcony 🙂
If I go on vacation, what will happen to my composter?
As for worms, don't panic! Give them a good layer of food before you leave, and they'll get used to after a few weeks. As for watering, if you're away for more than a dozen days, there's nothing like a nice neighbor or friend to come and water them. Very soon, our R&D tests will enable us to recommend suitable automatic watering systems. We'll keep you posted on our social media ! 
What to put in my composter
The secret of compost is the balance between wet matter (peelings, coffee grounds...) and dry matter (cardboard, paper...). We often forget that cardboard is very important: it aerates the vermicompost, regulates humidity and makes a great bedding for the worms: that's where they reproduce. For better digestion of bio-waste, cut it into small pieces. Vermicompost is more efficient than compost, but also more sensitive. Avoid adding animal matter (milk, meat), fats (oil), citrus fruits and Alliaceae (garlic, onions, leeks, chives, etc.), which have vermifuge properties.